QC12Y-8 Series Hydraulic Swing Beam Shear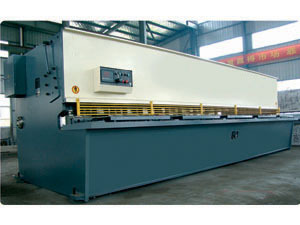 QC12Y-8 Series Hydraulic Swing Beam Shear
Owing to our steadfast quality commitment, we have emerged as a renowned organization to manufacture and supply a best quality array of QC12Y-8 Series Hydraulic Swing Beam Shear. The offered machine is manufactured with the use of premium quality raw materials and the cutting-edge technology in line with the set industry standards. Quality tested on certain parameters of quality, this machine is known for its strong construction and hassle free operations. Moreover, this QC12Y-8 Series Hydraulic Swing Beam Shear is available at most competitive rates for the clients.
Features:
Easy operations

High performance

Energy efficient


Longer service life
Performance :-
The frame is entirely welded with steel plates, vibration to eliminate stress. With high strength and good rigidity.

Hydraulic drive, return of knife beam is smooth and prompt by accumulator or nitrogen cylinder. With easy operation, reliable performance and nice appearance.

There is indicator for adjusting the blade clearance, easily operation.

There are safety fences in the working area to ensure the personal safety

There are numerical display for cutting number and the length of back gauge.
Parameter of QC12Y / QC 12K Series Hydraulic Swing Shearing Machine:-
| | | | | | | |
| --- | --- | --- | --- | --- | --- | --- |
| Specification & Parameter | Shearing Thickness mm | Shearing Width mm | Shearing Angle (°) | Number of Stroke min-1 | Backgauge Range mm | Motor Power kw |
| QC 12Y–4 x2500 | 4 | 2500 | 1°30' | 18 | 20 ~ 600 | 4.0 |
| QC 12Y–4 x3200 | 4 | 3200 | 1°30' | 18 | 20 ~ 600 | 5.5 |
| QC 12Y–4 x4000 | 4 | 4000 | 1°30' | 12 | 20 ~ 600 | 5.5 |
| QC 12Y–4 x5000 | 4 | 5000 | 1°30' | 10 | 20 ~ 600 | 5.5 |
| QC 12Y–4 x6000 | 4 | 6000 | 1°30' | 7 | 20 ~ 800 | 7.5 |
| QC 12Y–6 x2500 | 6 | 2500 | 1°30' | 18 | 20 ~ 600 | 7.5 |
| QC 12Y–6 x3200 | 6 | 3200 | 1°30' | 14 | 20 ~ 600 | 7.5 |
| QC 12Y–6 x4000 | 6 | 4000 | 1°30' | 12 | 20 ~ 600 | 7.5 |
| QC 12Y–6 x5000 | 6 | 5000 | 1°30' | 10 | 20 ~ 600 | 7.5 |
| QC 12Y–6 x6000 | 6 | 6000 | 1°30' | 7 | 20 ~ 800 | 11 |
| QC 12Y–8 x2500 | 8 | 2500 | 1°30' | 14 | 20 ~ 600 | 7.5 |
| QC 12Y–8 x3200 | 8 | 3200 | 1°30' | 10 | 20 ~ 600 | 7.5 |
| QC 12Y–8 x4000 | 8 | 4000 | 1°30' | 8 | 20 ~ 600 | 11 |
| QC 12Y–8 x5000 | 8 | 5000 | 1°30' | 7 | 20 ~ 800 | 15 |
| QC 12Y–8 x6000 | 8 | 6000 | 1°30' | 6 | 20 ~ 800 | 15 |
| QC 12Y–8 x8000 | 8 | 8000 | 1°30' | 5 | 20 ~ 800 | 18.5 |
| QC 12Y–10 x2500 | 10 | 2500 | 1°30' | 10 | 20 ~ 600 | 11 |
| QC 12Y–10 x3200 | 10 | 3200 | 1°30' | 10 | 20 ~ 600 | 11 |
| QC 12Y–10 x4000 | 10 | 4000 | 1°30' | 8 | 20 ~ 600 | 15 |
| QC 12Y–12 x2500 | 12 | 2500 | 2° | 10 | 20 ~ 600 | 15 |
| QC 12Y–12 x3200 | 12 | 3200 | 2° | 9 | 20 ~ 600 | 18.5 |
| QC 12Y–12 x4000 | 12 | 4000 | 2° | 8 | 20 ~ 800 | 22 |
| QC 12Y–12 x5000 | 12 | 5000 | 2° | 7 | 20 ~ 800 | 22 |
| QC 12Y–12 x6000 | 12 | 6000 | 2° | 6 | 20 ~ 800 | 30 |
| QC 12Y–12 x8000 | 12 | 8000 | 2° | 5 | 20 ~ 800 | 30 |
| QC 12Y–16 x2500 | 16 | 2500 | 2° | 8 | 20 ~ 600 | 22 |
| QC 12Y–16 x3200 | 16 | 3200 | 2° | 7 | 20 ~ 600 | 22 |
| QC 12Y–16 x4000 | 16 | 4000 | 2° | 5 | 20 ~ 800 | 30 |
| QC 12Y–20 x2500 | 20 | 2500 | 2°30' | 6 | 20 ~ 800 | 22 |
| QC 12Y–20 x3200 | 20 | 3200 | 2°30' | 6 | 20 ~ 1000 | 30 |
| QC 12Y–20 x4000 | 20 | 4000 | 2°30' | 6 | 20 ~ 1000 | 30 |
| QC 12Y–25 x2500 | 25 | 2500 | 3° | 6 | 20 ~ 1000 | 30 |
| QC 12Y–25 x3200 | 25 | 3200 | 3° | 6 | 20 ~ 1000 | 37 |
| QC 12Y–30 x2500 | 30 | 2500 | 3°30' | 6 | 20 ~ 1000 | 37 |
| QC 12Y–30 x3200 | 30 | 3200 | 3°30' | 5 | 20 ~ 1000 | 45 |
| QC 12Y–40 x2500 | 40 | 2500 | 3°30' | 5 | 20 ~ 1000 | 55 |
| QC 12Y–40 x3200 | 40 | 3200 | 3°30' | 5 | 20 ~ 1000 | 55 |
| QC 12Y–50 x3000 | 50 | 3000 | 3°30' | 5 | | 90x3 |
| QC 12Y–50 x6000 | 50 | 6000 | 3°30' | 5 | | 90x5 |
| QC 12Y–60 x4000 | 60 | 4000 | 3°30' | 5 | | 90x5 |
Contact Details
PRAGMACON INDIA


Straightening & Bending Technique
155, Dakshin Dari Road, Kolkata - 700048, West Bengal, India
Phone : +917259334207
Fax : 91-33-30275849
Mr. Arun Bandyopadhyay (President)
Mobile : +917259334207